The Best Casino Game Odds
Different folks take part in gambling for different reasons. Some will do it for fun while others will play various games with the hope of walking away with some extra cash. If you're in it for profit, you need to know that there is more to gambling than just wagering - you might want to learn about various casino game odds.
Note that each game has different odds and probabilities. As such, if you're going to take home a substantial amount of cash, you should pick titles that have a low casino advantage as they always have great odds.
What is the House edge?
Firstly, keep in mind that gambling establishments exist to make a profit, which is where the house edge and payout percentage come in. Also referred to as the casino advantage, the house edge is the operator's profit usually expressed as a percentage of your original bet. This tells you how much a game pays out on average as well as which games offer the best returns on your bets. While you do not need to know every little detail, you must know the normal house edge should be around 2-3%.
The payout percentage, on the other hand, applies to slots, which defines the return a player gets for every wager.
One important thing to remember is that the house edge is calculated under ideal conditions such as wagers on high probability outcomes and consistent gameplay according to basic strategies. Therefore, if a player is reckless in placing bets, their casino game odds will not be favorable.
Games that have the Best Odds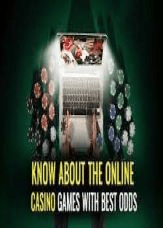 Great odds are found in the games that involve strategy, in other words, all types of table games. Unfortunately, many people are not aware of this especially the beginners. Discussed below are the greatest casino game odds you'll find.
Blackjack: 0.5%
Blackjack is a simple card game that partly requires skill to win. Usually, you play against a dealer and blackjack can comprise several players, all trying to beat the dealer. The one that comes closest to getting 21 without a 'bust', going over, is declared the winner.
While winning takes luck, the dealer relies as much on luck as you, the player, which makes the casino game odds even. Additionally, it's amongst the games with high payout rates.
Craps: 0.60%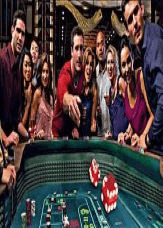 This is yet another game that has been passed down from one generation to the other and is quite popular at all top online betting houses. This dice game could seem intimidating at first due to the different kinds of bets you can place; however, it's easy to master with time. Most beginners use the 'Pass Line', which guarantees some form of return. As you get more experienced, you are able to make more bets that earn you higher payouts.
Baccarat: 1%
This is a timeless and elegant game that's popular at all betting operators. Betting on the banker's hand has a casino advantage of 1% - betting on a player has decent odds as well. Generally, Baccarat comes with a number of betting possibilities, which have different casino game odds. To win at this particular title, your best bet would be to get familiar with the rules and the various types of best.